To get email notifications of future events, you can either:
– head to my blog and subscribe to new posts via the little box on the right.
– sign up for my newsletter, The James Foley-o, and get all my news and events in a quarterly email.
---
May 18: Make Your Own Story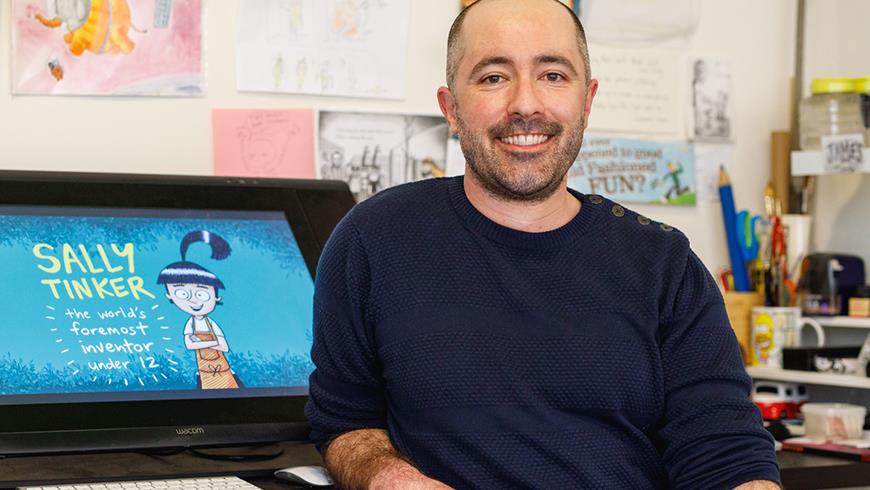 It's Library and Information Week so I'm joining the festivities at South Perth Library. 
Come along and learn all about how to illustrate and make your own stories come to life.
DATE: May 18th, 2021
TIME: 4:30-5:30pm
WHERE: South Perth Library, Cnr Sandgate St & South Tce, South Perth WA
AGES: 7yo+
COST: free
BOOKING: essential. Click here to reserve your place.
---
May 29-30: Scribblers Festival family weekend
Scribblers is an annual festival of literature and arts for young people in WA.
This year's festival sees 26 children's book authors, illustrators, and all around creatives (including me) meeting at a new venue, the Subiaco Arts Centre.
I've got a couple of sessions in the Schools Program that I'm super excited about … plus I'll be part of the the festival's Family Program on Saturday May 29 – Sunday 30. Brace yourself for a weekend packed with story battles, LEGO Masters, Book Doctors, Teen Podcasters, and more hands-on creativity than your hands can handle!
Here's a quick list of my sessions on Sunday May 30th.
WORKSHOP: Drawing Dinosaurs
9:30-10:30am
8yo +
*SOLD OUT*
TALK: Spooky Tales
Main Auditorium
11-11:30am
7yo+
Free – but bookings essential.
ILLUSTRATOR BATTLE: Pencils Drawn!
Amphitheatre
1:45-2:15pm
All ages
Free, no booking required
---
For more info and the full line-up, head to the Scribblers Festival family program page.
June 6-7: WA Day festival
I'll be doing a few book-related activities at this year's WA Day festival – it runs for two days but I'll just be there on Monday June 7.
More details soon!